Cincinnati Children's new Offices @ Vernon Manor reflect current trends in office design, emphasizing efficiency and productivity, technology, and the power of the branded environment.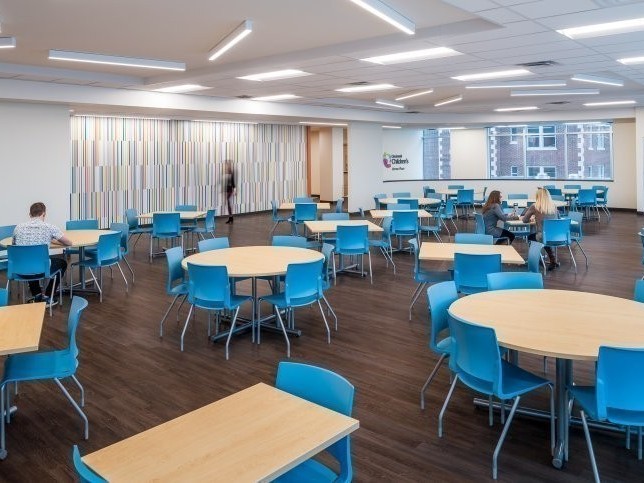 Propelled by sustained growth in services, Cincinnati Children's desired to move a large amount of office space out of its Burnet (Main) Campus, in order to free up space for care service expansion. The medical center had previously committed to maintaining a large employee presence within the City of Cincinnati through the nearby adaptive reuse of the historic Vernon Manor building for office space. The site also accommodates this additional office relocation through the design and construction of a new office building on the property — a Design/Build venture performed by Al Neyer and Champlin Architecture. The new Offices @ Vernon Manor accommodate 700 employees from various departments in 145,000 sf on four floors, with capacity to hold up to 900 to accommodate their rapid growth.
An inclusive design process that builds consensus among stakeholders
The facility includes two contact centers within the building; The Drug and Poison Information Center and the Information Technology Center. There are approximately 100 contact center employees divided between the two groups. The open floor plan encourages collaboration among groups of employees who can achieve greater synergies by being co-located. Building amenities include an employee Café/Bistro, Training & conference space, I.T. Support Build Room, and a parking garage designed by the developer. We leveraged access to natural light and views for all building occupants. Champlin utilized the Cincinnati Children's facility & brand standards to coordinate finishes and furnishings for the building, thus providing a cohesive employee experience across the entire medical system. Our design strategy focused on creating a flexible array of core spaces, based upon the building's structural module. This facilitates future occupancy changes, with minimal, if any, disruption to operations.