Technology propels design of renovated and expanded Headquarters for longtime client Cincinnati Bell.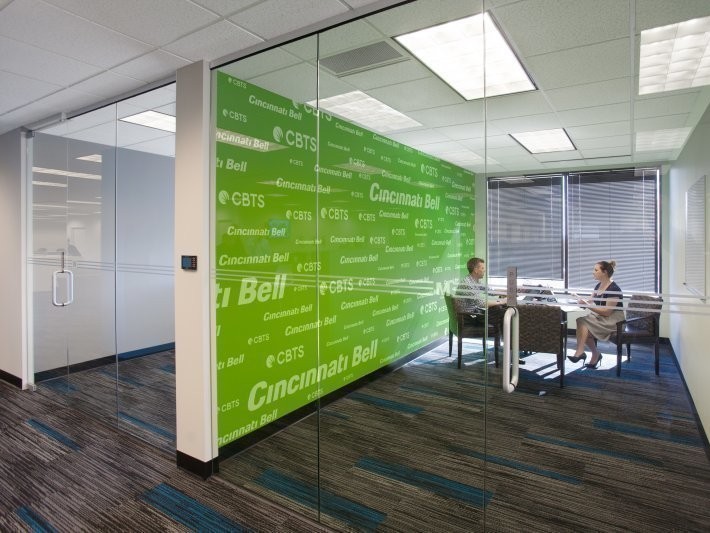 Champlin Architecture's association with Cincinnati Bell goes back over 85 years to Bell's original Art Deco edifice, designed by Champlin's predecessor firm, Harry Hake. At the time, that building housed the world's longest straight switchboard. Cincinnati Bell recently took advantage of available square footage contiguous to its current Champlin-designed headquarters in the Atrium II office tower to consolidate its burgeoning local office operations. Project drivers for this office renovation and expansion include increasing visibility in downtown Cincinnati for CBT, and creating a fresh, invigorating space that merges the cultures of Cincinnati Bell and Cincinnati Bell Technology Solutions, who now share this workplace. Champlin's responsibilities included space planning, employee transition assistance, and the design of a relatively modest corporate space with bright, energizing accent colors — consistent with corporate branding.
Best practice design seamlessly integrates technology for fostering connectivity
Cincinnati Bell's Headquarters epitomizes many best practices in corporate office design, including an open office layout filled with natural light, informal huddle spaces scattered throughout, coffee bars on every floor, and integration of the latest communication and collaboration technologies — demonstrating Bell's revolutionary Fioptics fiber technology. Comprising 184,000 sf on six floors, workspace for 915 employees also includes generous meeting and training facilities. 
An "uplifting" environment for CBT and CBTS employees was a stated — and achieved — objective. Wellness initiatives and strategies steered planning and design of the space, subtly encouraging employees to use the stairwells as much as possible. A walkstation was included at the corner of most floors, which also fosters movement during the work day. Customized wall graphics enliven the environment, signaling integration through branding.
What the client says:
"On behalf of Cincinnati Bell, I wanted to personally thank you for all your hard work making the new Cincinnati Bell Headquarters relocation project a reality and also one of the new office spaces in Cincinnati. Your positive effort and cooperative team spirit was significant in making the transition for Cincinnati Bell a huge success. Not only was the project completed on schedule, but it was delivered under budget and the end result couldn't be better. We now have a working environment that inspires innovation and collaboration across our business." 
Ted Torbeck - Cincinnati Bell, President and CEO