Behavioral Health Institute for Mercy Health counters preconceptions with high quality design augmenting advanced treatment approaches.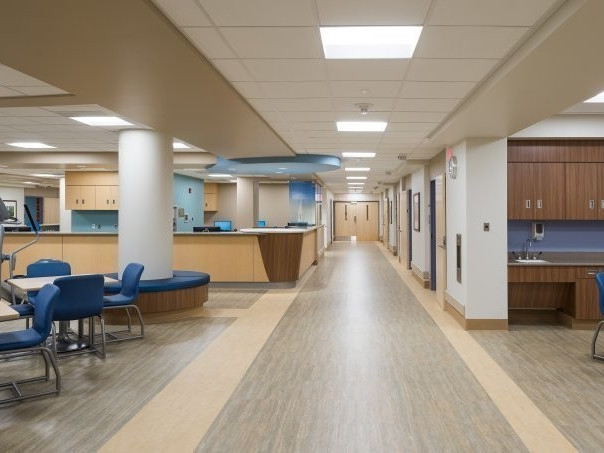 This full demolition and redesign of the seventh floor within Youngstown's St. Elizabeth Hospital creates two inpatient behavioral health treatment units for Mercy Health's Behavioral Health Institute (BHI). One unit is a 24-bed adult unit and the other a 14-bed geriatric unit, each located in a wing of two interconnected buildings. These units are accessed from a common lobby that allows for sharing of waiting space, reception, and security provisions. A third connected building serves behavioral outpatient functions and received minor renovations that included new finishes and casework to match the aesthetic of the inpatient units.
Open-concept layout encourages beneficial interaction between patients and staff
Interior finishes in patient care areas were coordinated with BHI's brand identity and are carefully placed to cue patients which areas are accessible to them at all times or accessible to them only when accompanied by staff. The design of the units utilizes an "open concept" that serves to increase and facilitate direct contact and interaction between staff and patients in accordance with Mercy's Therapeutic Model of Care. The new facility incorporates state-of-the-art treatment concepts such as multi-sensory environments (including visual, audible and tactile stimuli, as well as Snoezelen equipment), large day spaces with abundant natural light, and limited barriers to promote patient recovery. The units utilize shared activity staff.
While the units incorporate many time-tested behavioral care design tenets, such as rounded corners and edges and no protruding hardware, the overall aesthetic reflects trends in healthcare design emulating hospitality design — featuring attractive finishes and upscale details countering institutional preconceptions.