The Village at Bayley Place enables the Sisters of Charity to offer independent living to seniors in a remarkably planned setting close to home.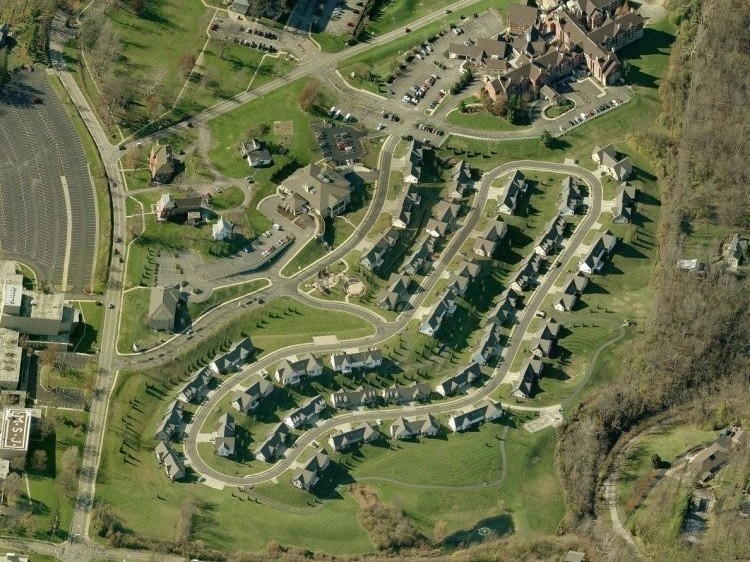 Located in Delhi Township, The Village at Bayley Place is a community which supports the needs and lifestyles of the rapidly growing aged adult population. This 23-acre independent living development contains 39 cottages with 78 total living units, designed as patio homes — allowing senior citizens to live in a home without the worries of maintenance. The successful development has maintained 100% occupancy since completion.
The cornerstone of the community is the Wellness Center, which supports social and physical needs of residents, and is also open to the surrounding neighborhood. This focal point of the Village incorporates a fitness center for exercise, large warm water therapy pool with easy accessibility, and dedicated space for alternative treatments and seminars. In addition, Eldermount, an adult day care program is housed here. A restaurant, flexible meeting spaces, administrative offices for The Village, a country store, and guest suites for visitors are included.
Clever site planning addresses difficult challenges presented by rolling hillside
The community was skillfully terraced into the steeply sloping site, in response to a functional program dictating single-level living and an easily-navigable pedestrian walkway system.The Sister's desire for traditional architecture in a verdant landscape, complementing their historic Motherhouse up the road, led Champlin to a picturesque solution for The Village. The development offers many amenities: sculpture, guest parking, a physicians' office building on site — which shares parking with the Wellness Center, benches and a gazebo.