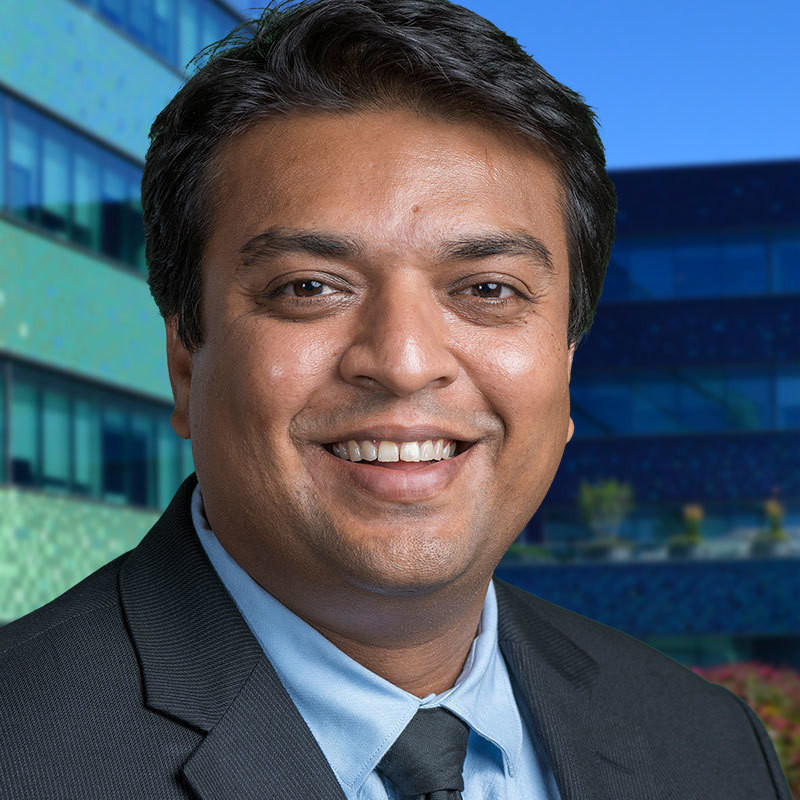 Registrations and Certifications: AIA, LEED AP BD+C, EDAC
Education: University of Cincinnati / 2004 / Master of Community Planning; CEPT University, India / 2001 / BArch
17 Years with Champlin
Email
Principal
Krutarth Jain, AIA, LEED AP BD+C
With a passion for exploration, art, and culture, of course, Krutarth is one of our top tech-inspired designers. Once you meet him and learn about his diverse educational background and experience, you'll understand. An expert in BIM technology, Krutarth brings his expertise to projects in the healthcare, higher education, and civic market sectors. A spark for innovation, he consistently advocates for sustainability and the advancement of building materials and systems on all of our projects.
Krutarth combines his knowledge of architecture, urban design, and planning with his experience as a former part-time Intern Planner/Urban Designer at the University of Cincinnati, Division of Campus Planning and Architecture, to continue his great work with local organizations. But he doesn't stop there.
Krutarth also lends his talents to numerous non-profit community organizations and is actively involved in their fundraising and capital improvement projects. Working with these organizations, Krutarth has a good understanding of many of the challenges his clients face. His community and professional involvement includes: Hamilton County, Economic Inclusion Advisory Council; The Corporation for Findlay Market, Board of Directors; Indian American Chamber of Commerce Greater Cincinnati and Northern Kentucky, Founding Board Member and President; Clifton Cultural Arts Center, Founding Board Member; Hindu Society of Greater Cincinnati, Committee Member and Past President and Vice President; AIA Cincinnati — Sporting Clay Event. Krutarth is also a member of the AIA, APA, USGBC, and COA (Council of Architects, India). Krutarth also is a coach for the Wyoming Middle School Girls Youth Lacrosse program. His continued work with local organizations also helps to fuel his passion for travel, exploration, and the world of art and culture. We know. We're tired too, but he keeps going.